Pines von Blake Crouch (German)
Pines
by
Blake Crouch
My rating:
3 of 5 stars
Das war im großen Ganzen ein Buch, wo ich nicht wirklich sagen konnte, was ich davon hielt...
Aber findet mehr heraus!
:)
Als erstes werden wir mit dem
Hauptcharakter
bekannt gemacht
:
Gedanken:
Als ich über ihn im Buch nachgedacht habe, hat er mich ein wenig an den typischen Alltagsheld erinnert. Jedoch zeigte er mir schnell, das er auch ein paar mehr faszinierende Aspekte seiner Persönlichkeit hatte.
Er ist ein
Secret Service Agent
, genannt
Ethan Burke
, und er findet sich selbst in einem scheinbar normalen Wald mit einem Fluss vor, allerdings ohne Erinnerungen .
Dann geht er zu dieser Stadt mit den Viktorianischen Häusern, um mehr herauszufinden. Aber ein Geheimnis nach dem anderen begegnet ihm und er spürt auf, dass die vermeintliche harmlose Stadt mehr enthüllen kann, als warum er alleine ohne Bewusstsein in einem Wald war ...
Er weiß nur sechs Dinge bestimmt:
- sein Alter = 37 Jahre alt
- wie das Gesicht seiner Mutter ausgesehen hat
- wer der derzeitige Präsident ist
- das er einen Helicopter fliegen kann
- das er Klavierspielen kann that
Und das er schnell in ein Krankenhaus muss!
Es ist eine herrliche Stadt, in der er sich befindet.
Zugleich ist es etwas
Unheimliches
an ihr:
Sie scheint fast zu perfekt zu sein. Es gibt keine Fast-Food-Ketten, alle Garten sind gemäht und alles scheint so sehr nach der perfekten Vorortsiedlung zu schreien.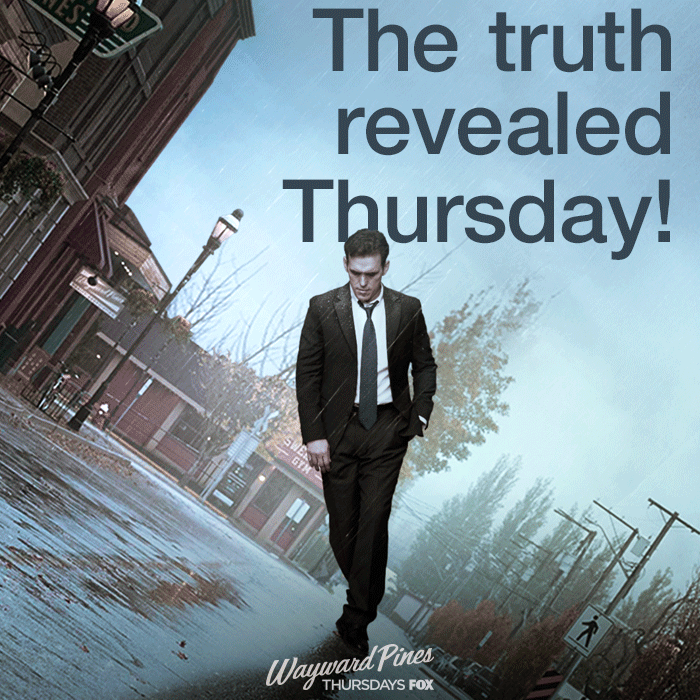 Auf einem Briefkasten entdeckt er den Namen Mackenzie. Der Name bedeutet etwas für ihn. Doch weiß er genau, das er noch mehr erfahren muss, warum er in dieser Stadt ist.
Allerdings als seine Erinnerungen zurück kehren über seine Vergangenheit, seine Familie, den Grund, warum er entschieden hat nach Pines, Idaho zu gehen, versuchen andere ihm wieder sein altes Leben vergessen zu lassen.
Ethan wird behandelt von Dr. Jenkins, der ein Psychiater ist und er nimmt an, das Ethans Kriegserfahrungen im Irak der Grund sind, weshalb Ethan eine andere Perspektive über die Gegebenheiten hat.
Hingegen fühlt Ethan das anders und er ist sich bewusst, das etwas anders ist in Wayward Pines. Außerdem muss Ethan das Verschwinden von zwei Agenten untersuchen:
Kate and Evans
.
Kate, die seine frühere Partnerin war und die Frau, mit der er seine Ehefrau betrog. w
Schließlich als er feststellt, dass
Agent Evans tot ist
und Kate immens gealtert ist seit dem letzten Mal, als er sie gesehen hatte...realisiert er, dass der einzige Weg zurück nach
Theresa und seinem Sohn Ben besteht, indem er
Wayward Pines schnellstmöglich verlässt
...
... wenn es einen Weg heraus gäbe.
Ein mitreißender, guter Roman, um die Zeit zu vertreiben und für zwischendurch! Ich empfehle ihn sehr gerne an alle Leute, die Krimis, Spannung und ein wenig Mystery mögen.
Unglücklicherweise sind ein paar Abschnitte nicht ganz meins gewesen und das Ende ist ein wenig weit hergeholt. Die Story hatte auch ein paar antiklimatische Züge.
Im Allgemeinen, mochte ich es trotzdem und gerade, wenn man ein paar Stunden sich ein wenig erholen will, ist es das richtige Buch! :)
Liebe Grüße,
Butterfly
View all my reviews