The Scorch Trials (The Maze Runner #2) by James Dashner (English review)
Hello, my dear friends and followers,
Finally, I
got some time to write about the second book and YA dystopian science Fiction novel written by James Dashner.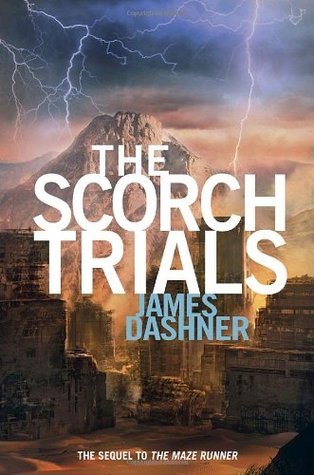 Plot:
It is of course again about the Gladers, Thomas and his friends and not to forget Teresa. After being rescued at the end of the first installment, it begins with Thomas and the other teenagers sleeping in the dormitory.
After the Gladers could escape the crazy experiment, it seems like everything is peaceful for now.
However the problems only have started: In the evening Thomas and Teresa experience that they have a telepathic connection to each other and can communicate with each other. Yet, in the daylight when Thomas wakes up he knows something is missing... someone.
Teresa, the only female Glader disappeared overnight. And that is not the worst. Cranks, normal people who got the disease, called the "Flare" and were turned into zombies, broke into their house.
All rescuers are dead. And instead of Teresa, there is a strange boy called Aris
Jones, who
claims that he belongs to Group B, where he was the only male.
And that is not all: The Gladers notice a mysterious tattoo on their neck which tells them what specific role they have in the group.
The bunch
goes
into the common area again
and
plan their
strategy, how
to proceed in the best way when they notice that all dead bodies disappeared. It seems like nothing ever happened there.
All at once there is a scientist of WICKED, named Janson (but he is only the "Rat Man" for the Gladers) who explains that another experiment started. All
Gladers
have been infected with the Flare so the scientists can study them.
And they also have a task: The gang has to reach the end of the Scorch - a place where only drought and searing heat dominate. The clique has to reach the end in 2 weeks or they will die trying.
So the Gladers have no other chance and on their way they encounter traps and things which are not like they seem.
The group walks through the desert and when they find a city at last, their trials still haven't f
inished
.

There is a storm and many die, among them are Winston and Jack ;(.
Yet the Gladers can't stop and must go further to get the cure...
Will the others survive the Scorch trials?
Is there really a cure against the flare?
Where is Teresa?